Valladolid is a vibrant, typical Yucatan city with distinctly colonial feel. Valladolid is about 65 miles from Tulum and can be reached by car or by bus which takes under 2 hours to get to. In 2012 Valladolid was named ´Pueblo Magico´or ´the magic town´ and it is where you will still see many of its inhabitants dressed in the traditional Mayan dress of huipiles for the ladies and guayaberas for the men. It is well worth a visit so you can experience the truly laid back ambience of a real Mexican town with its town square and pastel colored buildings. The most well known attraction is the Church of San Servacio which is situated right on the main plaza. The original church here was built in 1545, but in 1705 this was demolished by order of the bishop Don Pedro de los Reyes Rios and the new construction began the following year allowing the main access to open into the main plaza.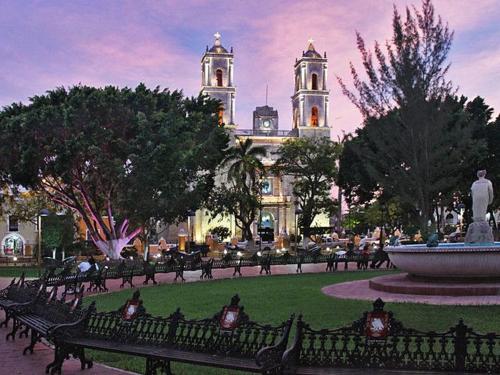 Many of the buildings are of colonial architecture, such as the municipal palace, the museums and the train station. Dotted around these are the colorful buildings which are typical of Valladolid. There are also many haciendas in the region which are open to the public, many of which house fantastic restaurants and give you the opportunity to see how the people used to live here in the days when the henequen was their main source of income. Opposite the main plaza is a colonial building next to the Hotel Meson del Marques which house many stall selling typical Yucatecan handcrafts. They are hand made and sold by the Mayan women all dressed in the typical dress of Yucatan.
Valladolid is also famous for its fabulous food! You must try the cuisine of the areas which is full of colour and exciting flavors. Some of the most popular dishes you should try are pavo en escabeche, relleno negro, cochinita pibil and queso relleno among so many other delicious traditional fare. If you are planning to stay for a night or two there are many reasonable hotels and bed and breakfast facilities. It's also a good stopover if you are going to Chichen Itza as it is only about 25 miles away, or Ek Balam which is also only a 20 min drive away.