You will find many cenotes in and around Tulum. Cenotes are also known as sinkholes and are a natural marvel, feeding from underground streams and rivers that run under the Yucatan peninsula. The most popular cenotes are Cenote Las Mojarras, Cenote Siete Bocas, Cenote Boca Del Puma and Cenote Verde Lucero which are on the the Cenote Route but here wil talk about the ones near Tulum. Due to its geological composition, the Yucatan Peninsula reacts as a type of sponge, when it rains, by absorbing all the moisture. The water that seeps through the soil begins to dissolve, giving way to caverns that can be partially or completely flooded, and when one of these caverns collapses due to erosion, the cenotes are born. The formation of cenotes can last hundreds of thousands of years. There are open, semi-open, ancient, and cavern cenotes, classification depends mainly of age. These crystalline springs, connected by a network of underground rivers and which by nature can vary in shape and characteristics, are virtually unique to the Yucatan peninsula.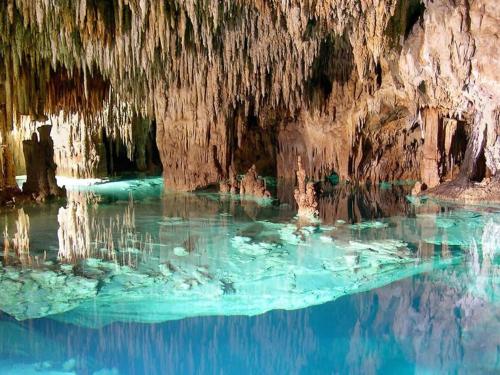 Cenotes were considered a source of life for the Maya as they provided water, the vital liquid, represented an entrance to the other world and center of communion with the gods.  The word cenote comes from the Mayan dzonot, which means cave with water. In the Xenotes Tour by Experiencias Xcaret, you will visit four different types of cenotes considered sacred to the Mayan culture that also offer fun activities like kayaking, snorkeling, zip-lines and rappelling. Take advantage of this unique opportunity to enjoy the majestic and refreshing cenotes of Cancun and Riviera Maya!  
Cenote Trails
Gran Cenote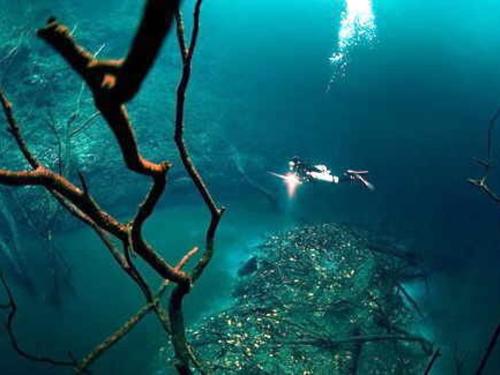 This is the nearest cenote to Tulum town center. It is stunning with crystal clear cool waters, and full of fish and turtles. You will also hear the the chatter of bats above! It's hard to believe until you see it with your own eyes! A nice change from the heat of the beach and warm sea water. Location: 5 km from Tulum on road to Coba on right.
Ladder steps lead to half moon shaped cenote decorated with small passages & openings. One of most popular sites as it is good for all ages as it is shallow on one side. It is famous for brilliant speleothem decorations & crystal clear water. Open: 10-5 Daily Facilities: Bathrooms Snorkeling: Fun. Fantastic. Spectacular. Paradise. Entrance Fee: 50 pesos.
Dos Ojos (Hidden Worlds)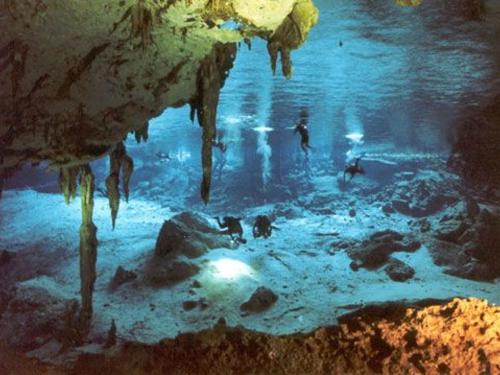 Location: 48 km south of Playa Del Carmen south of Xel-Ha on the right. Then 4 km down a dirt road. This is part of the Nohoch Nah Chich cave system was the location of filming for Imax Journey into Amazing Caves documentary. Open: 10-5 daily Facilities: Bathrooms, restaurant. Snorkeling: Superb snorkeling with stalactites & stalagmites everywhere Entrance Fee: $10 US/$25-40 US for snorkel tours.
Temple of Doom (Calavera/Skull)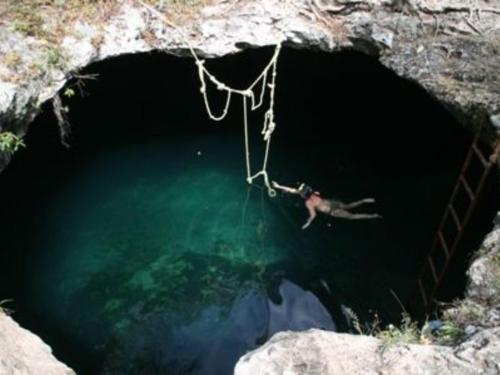 Location: 2 km from Tulum on road to Coba on right down a very rugged jungle path There are three holes in the ground – one is 30 ft & two are 4 ft in diameter – creating the shape of a skull, hence the name Facilities: None Swimming: Great for swimming with a 10 ft drop down into the cenote. There is a rope swing & a ladder
Car Wash (Aktun Ha/Water Cave)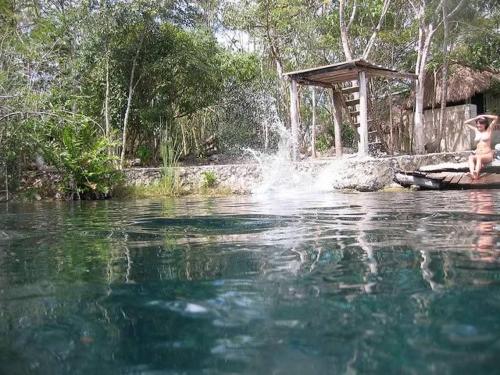 Location: 8 km from Tulum on road to Coba/4 km past Gran Cenote on left. You can drive right in approximately 30 m (100 ft) to cenote. It is called Car Wash because the locals used to wash their cars here. Open: 9-5 Daily Facilities: Bathrooms Swimming: Very easy access. Like a small lake. Good fun Snorkeling: Good in winter months. Too much algae growth in warmer months. Many small tropical fish. Entrance Fee: 20 pesos.
Cristal (Naharon)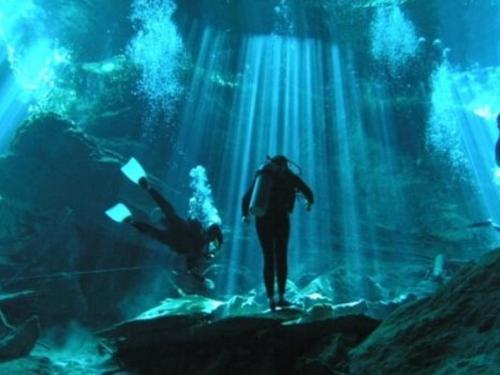 Location: 4 km south of Tulum on right. Facilities: Bathrooms Swimming: Great Snorkeling: Great Entrance Fee: Yes. Includes entrance to Escondido across the street.
Escondido (Mayan Blue)
Location: 4 km south of Tulum on left/Across from Cristal Cenote/2 km walk in Jungle. This place is one of the least known and really beautiful and secluded. Facilities: Bathrooms Swimming: Good Snorkeling: Good Entrance Fee: Included in Cristal entrance fee.
Cenotes Types
Open Cenote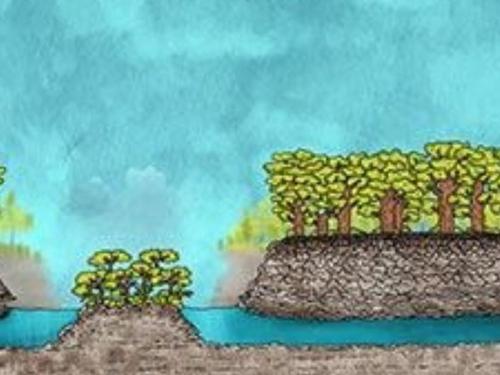 Characterized by its cylindrical shape, the open cenotes stand out for the spectacular flora that can be admired in its high walls and rock formations, ideal for practicing adventure activities. The best known example is the Sacred Cenote of Chichén Itzá, in which offerings and other prehispanic pieces were found during archaeological explorations. Cool off in the calm waters of the Fire Xenote and discover with Xenotes Tour why the ancient Maya considered them sacred shrines.
Ancient Cenote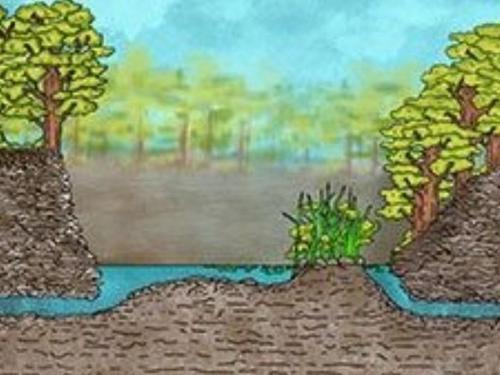 It is very common that ancient cenotes, for their age, are fully exposed to the outdoors and immersed in the lush vegetation of the Mayan jungle. Experiencias Xcaret takes you on a journey to discover these bodies of water that resemble lagoons and in the past served as a resource for Mayan settlements in the area. This unique cenotes tour allows you to visit a spectacular open cenote and enjoy the environment while doing refreshing activities in zip-lines. Relax in the calm waters of the Wind Xenote, an authentic oasis in the jungle!
Semi open Cenote
Semi-open cenotes usually hide their water surface inside a cave that allows partial access of the sunlight. This makes them an ideal place in Cancun and Riviera Maya for an exploration experience where you can go deep into the bowels of the earth. Discover what these natural wonders hide and admire its rock formations while practicing rappel. Make yours this full of adrenaline adventure and be part of the Mayan legends in the Earth Xenote.
Cavern Cenotes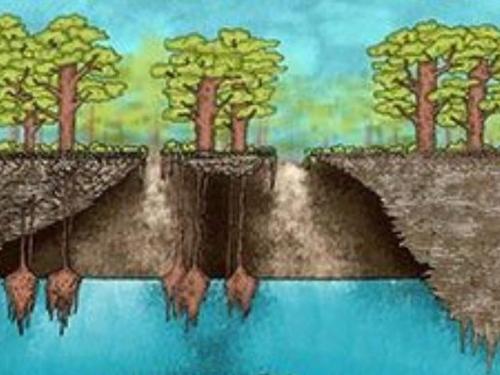 Recognized many times as the most enigmatic, these cenotes are located within caves where the Maya people practiced a variety of traditional ceremonies. This type of caverns offers activities for the more adventurous, as some can extend several kilometers below the earth, and even connect to other cenotes and caves in the area. Take this opportunity with the Xenotes Tour and enjoy snorkeling in the Water Xenote, a place that few have had the fortune to meet. An experience you will never forget!