Coba is an ancient Mayan city located only 48km from Tulum, and about 90km from Chichen Itza. This ancient Mayan city is enveloped deep in the greenery of the tropical jungle, rising up between two lagoons
History of Coba
At its peak Coba had more than 50,000 inhabitants, and was as important as Tikal in Guatemala and had tight cultural ties with its neighbour. Coba controlled the economy of the region using a complex network of elevated stone and plaster roads, known in Maya as sacbe. These radiated from the center of Coba to many other Mayan cities. Coba traded massively with other Mayan communities, particularly the ones further south along the Caribbean coast in what is now Belize. For trading overseas Coba used the ports of Xcaret, Xel-Há, Tancah, and Tulum.
Mayan Archaeology in Coba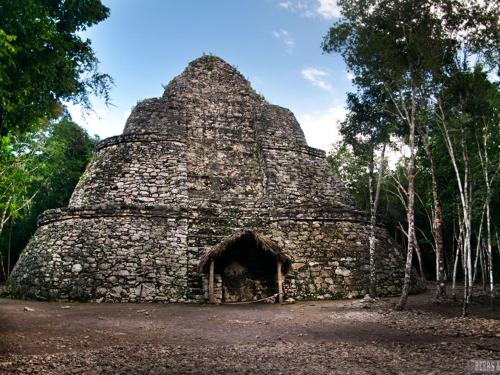 The Mayan archaeology in Coba is truly inspiring. New temples were built and old ones were maintained until at least the 14th century, probably as late as the arrival of the Spanish. Up until fairly recently the site remained almost unknown because of its remoteness, until the first modern road was opened up to Coba in the early 1970s. Clearing and restoring some of this enormous Mayan archaeological site became reality once the major resort of Cancun was planned and the Mexican government saw the opportunity to me make this another important tourist attraction in Quintana Roo.
The city is composed of various Mayan communities including Cobá, Chumuc Mul, Nohoch Mul, Las Pinturas, Macanxoc and Kukulcan. The tallest pyramid on the north of the peninsula is Nohoch Mul. It measures 42 metres (46 yards) and the view over the jungle that extends to infinity is unbeatable.
Tours to Coba
Tours to Coba are often combined with a visit to Tulum for archaeology lovers, or with one of the ecoparks or other natural attractions in the zone to make it a full day's excursion.